As a full time Arizona Luxury Real Estate expert, every day I track all current properties for sale, what has sold, new listings, expired listings, cancelled listings and any new price adjustments. In many instances, I know of homes in the region that are not yet listed on the Multiple Listings Service (MLS) and can introduce you to these "Pocket Listings" as well. I also preview 10 – 30 homes per week and I am confident I know the local inventory as well as anyone in the industry.
If you're looking to buy a home or land in Arizona, please fill out the form to the right. I'll respond as quickly as possible with all the current properties that match your criteria, as well I will send you updates as matching properties come on the market. This service is free of charge and implies no obligation. Your privacy is assured.
Contact me if you have any specific questions or requirements and I am happy to help.
Arizona Home Styles
Contemporary Style
Contemporary style homes is often associated with modernism. Contemporary architecture stems from a wide variety of influences. However, the ultimate intention of contemporary style homes is to create a feeling of space, putting emphasis in entertaining in the outdoors. These homes are more concerned with energy efficiency and uses sustainable materials. Eco-friendly homes are trending for the past decade, where materials and methods give a zen ambiance.
Mediterranean Style
This architectural style is immensely influenced by homes in the Mediterranean region such as Spain, Italy and Portugal. Mediterranean style homes is characterized by red tile or clay roofing, arches, plastered adobes, terraces or courtyards, stucco finishing, terra-cotta tile flooring and balconies. These features are designed for sunny, warm and dry climates.
Prairie Style
These homes are characterized by strong horizontal lines and wide open floor plans to complement the flat prairie landscape. Another distinct feature of this style is the low pitched hipped roof, grouped windows and secluded entrance. The Prairie architectural style was popularized by the famous architect, Frank Lloyd Wright, where his personal archives are found in Scottsdale Arizona.
Santa Fe Style
Santa Fe style homes is a variation between a Spanish Colonial and an Indian Pueblo design usually one story that features flat roofing, round-edged walls, stucco finishing, covered porches and exposed ceiling beams. The Santa Fe architectural style is best suited for the desert climate of the Southwest US.
Rancher Style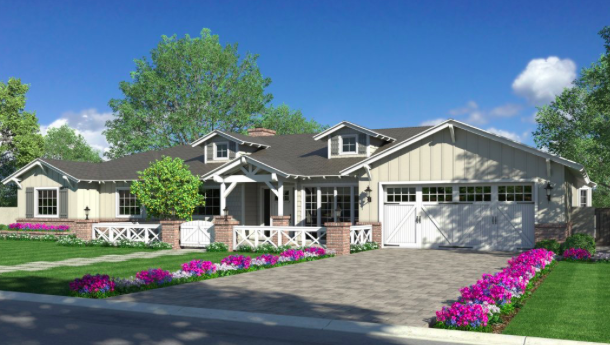 The ranch house is noted for its long, close-to-the-ground profile, and wide open layout. The house style fused modernist ideas and styles with notions of the American Western period of wide open spaces to create a very informal and casual living style. While the original style of the ranch was very informal and basic in design, starting around the early 1960s, many ranch homes constructed in the United States (particularly in the Sun Belt region) were increasingly built with more dramatic features like varying roof lines, cathedral ceilings, sunken living rooms, and extensive landscaping and grounds.